Summary
UPS may not grab headlines, but it's rewarding shareholders with a larger share of the profits returned through the dividend each year.
UPS increased its dividend by 49.02% in 2022 and another 6.58% in 2023, while increasing its consecutive years of dividend growth to 13 years.
E-commerce is projected to grow YoY, and in 2025 it is projected to be less than 25% of total retail sales in the United States which is a tailwind for UPS.
UPS has grown its revenue sequentially YoY since 2015 to over $100 billion and drives 11.51% to the bottom line in pure profit allowing them to reward shareholders and expand their business.
A shipping company may seem stale or boring in a world where technological advances continuously grab headlines. Artificial intelligence (AI), Metaverse, Web3, and Quantum Computing are some of the sectors the largest companies in the world are immersed in. A company that is making advances in AI is certainly going to have appealing headlines, and investors are going to spend time trying to uncover the next stock that can capitalize on the latest technological trends. When looking at the SPDR S&P 500 Trust ETF (SPY) technology represents 26.66% of the holdings, with the two largest companies, Apple (AAPL) and Microsoft (MSFT), having a 7.11% and 6.23% portfolio weighting. The United Postal Service (NYSE:UPS) may not have the appeal of an AAPL or MSFT, but this $166.19 billion entity has been generating billions in profits and rewarding shareholders with immense dividend growth. Today the dividend yields 3.35%, and shareholders received a 6.58% dividend increase in 2023. Shipping may not be that interesting, but UPS is a profit center that continues to reward shareholders, and e-commerce is a tailwind that UPS could benefit from for years to come.

This boring old company knows how to turn a profit
UPS may not grab the headlines, but they know how to expand and grow. In 2015, UPS generated $58.36 billion in revenue. Over the next 7 years, UPS increased its revenue by 71.92% or $41.98 billion. UPS has had an average annual revenue growth rate of 8.14% since 2015. UPS hasn't sacrificed its profits for growth either. UPS operates a low-margin business, yet its gross profit has increased by 72.93% or $10.58 billion over this period. Its gross profit margin also increased slightly from 24.85% in 2015 to 25% in 2022.
While UPS is a low-margin business, it still has the ability to generate billions in profits annually. In 2022, UPS drove $16.97 billion in EBITDA, $9.34 billion in FCF, and $11.55 billion in net income to its bottom line. Since 2015, UPS has generated $43.34 billion in net income, while 56.39% of it came in the previous 2 fiscal years. In 2022, for every $1 of revenue generated, 16.91% dropped to the bottom line in EBITDA, and 11.51% of every $1 was pure profit.
UPS's profitability has enabled it to grow over the years and amass a strong cash position with $7.6 billion in cash and short-term investments on its balance sheet. UPS has a fortress of a balance sheet as its unlevered with a 1.39% total debt to EBITDA ratio. UPS has $17.03 billion in long-term debt on the books, which is minimal for a company its size. There is $19.8 billion of total equity on the balance sheet, and UPS has been buying back shares as its outstanding shares have declined by -6.96% over the previous 9 years.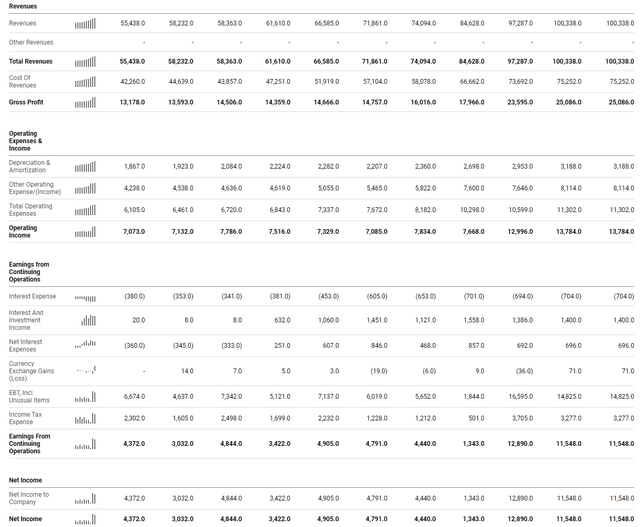 UPS could benefit from e-commerce for years to come
When I think about shipping, there are four main carriers that come to my mind, Amazon (AMZN), UPS, FedEx (FDX), and the United States Postal Service. The e-commerce wave should continue to be a rising tide that lifts all boats. Would you be surprised if I told you that e-commerce is projected to represent 17.94% of all retail sales in the United States throughout 2023? I am still surprised as I feel like I do most of my shopping online these days. In 2022 total retail sales in the United States were projected to come in at $6.62 trillion, and e-commerce would account for 16.08% ($1.07 trillion). Over the next three years, through 2025, total retail sales in the United States are projected to increase by 10.87% ($720 billion) to $7.34 trillion. In 2025, e-commerce is projected to account for 21.88% of total retail sales, generating $1.61 trillion in sales. From 2023 – 2025, e-commerce is expected to increase by 50.89% or $542 billion.
UPS is in a prime position to benefit from e-commerce well past 2025, just like the other large shippers. In 2025, e-commerce is projected to account for less than 1/4th of the total retail sales in the United States. This is a volume-based game, and we're living in a society where instant gratification is becoming normalized. After the pandemic bump, the average retail sale growth rate is projected to be 3.25% from 2021 – 2025. If we extrapolate this to 2030, the United States would have $8.62 trillion in retail sales. If e-commerce were to stay at 25% of total retail sales through 2030, there would be another 34.07% of growth as e-commerce would account for $2.15 trillion of retail sales. Hypothetically, if e-commerce can become 30% of retail sales, and retail sales grow at its average annual growth rate of 3.25%, e-commerce retail sales in 2030 would be valued at $2.59 trillion, which is a 60.88% increase from the $1.61 trillion slated for 2025. I think that UPS will benefit for years to come from the growing e-commerce trend, as I don't see it reversing course.
UPS continues to reward shareholders with a growing dividend
UPS has been a reliable dividend payer that recently rewarded shareholders with a large increase due to a spike in profits. In 2021, UPS increased its annual dividend by 49.02%, as it went from $4.08 to $6.08 per share. In 2022 shareholders received another 6.58% increase to the dividend as UPS paid an additional $0.10 per share in Q1. I look favorably upon companies that reward shareholders, and UPS has made a statement that shareholders will be rewarded when the company succeeds.
UPS has provided shareholders with 13 years of annual dividend increases, with a 12.69% average annual growth rate over the previous 5 years. Regardless of the large spike recently, UPS still maintains a dividend payout ratio of 46.95%. Currently, the dividend is $6.48, and UPS is projected to produce $11.39 of EPS in 2023 and $12.25 of EPS in 2024. As UPS has minimal debt obligations, there is more than enough room to continue modest dividend increases going forward, as the payout ratio is around half of the EPS it generates.

Conclusion
UPS is a strong dividend growth company with the ability for its shares to generate capital appreciation in the future. Shipping isn't a dying industry by any means, and based on e-commerce projections, we will continue to see an increased amount of goods needing transportation services for years to come. In 2025, e-commerce will still be less than 1/4th of total retail sales, and there is a case to be made that e-commerce will continue to represent a larger portion of total retail sales through the next decade. I feel UPS is a beneficiary of this trend and that the trend won't be reversed. We have become accustomed to instant gratification, and I think more and more items will be ordered and delivered over the years rather than people physically going to the store. UPS only has to worry about its current competitors as the barriers to entry are immense, and I don't see new competitors entering the space. I think UPS is positioned to grow its profits and reward shareholders with a growing dividend for years to come as e-commerce grows.